Linking up with some fun ladies (Nicole, Ashlee, and Jamie) today for...
5 random things.
+

I was just beginning to type

, when I saw a figure move on the reflection of my computer screen.
No worries, though, after some inv

estigating, I found out

it was only the

mail man delivering a package to the back door. PHEW.
+My hubby

's birthday is today.
To celebrate, I'm making his favorite pas

ta dish tonight.
+I cook almost every night, but hate it.
I can't seem to master the timing of getting everything prepared so that I can p

lace it on the table hot and ready.
Hungry mouths don't seem to mind, though.
Lucky (or not so lucky) for us,
the town we recently moved to has very few options for eating out (unless you want Mickey D's or Taco Bell, which, I do get a cra

ving for every now and then...)
You know what that means?
I'll be mastering this skill sooner, rather than later.
+I'm left-handed (aka I write with that hand),
but do a lot of things right-handed.
+When dealing with the volume (on the TV,

on

car ster

eos,

on radios, etc.) or temperature gages (mostly in cars), I

absolutely HAVE to have it on an even number.
It's really weird, and I hate to be the one to say

,
"Hey, can you turn up the volume one more notch to 16 instead of 15? Thanks."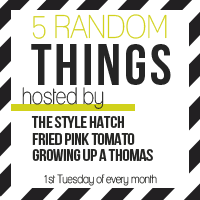 Tell me 5 random things about you

...I'd love to read 'em!
Pin It Now!