Little man is starting to develop some serious interests over

here

...
his latest love is trains.
He can be b

usy

playing,
hear the faintest "choo-choo" sou

nd off in the distance

,
promptly stop playing,
stand up

in awe and wonder,
and say "train

?"
A friend

of James'

was kind enough to let James borrow his toy train

for a bit.
This has been a favorite around these parts for the past few da

ys.
I'll let the pictures do the talking...
Don't you just love the simple joy that a 16 month old can experience?
I know that he's learning a lot from me, but goodness gracious,
I'm learning so much more from him...
What simple joys are you experiencing
today?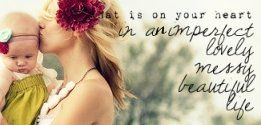 Pin It Now!