Dear grandma, happy 91st birthday! You are an inspiration to so many people with your strong faith in God (everyone says you have a direct line to the Man above...I believe it), your quick wit, and your kindness. I'm so incredibly grateful to have you as my grandma...and I love you.
Dear husband, I know I say this all the time, but I am so incredibly proud of you. Building up a football program takes time and patience, and guess what? You have both of those! God is using you to accomplish great things for His glory. Never give up. I love you with all my heart.
Dear son, this better be the ONLY time I see you in a police car. Just sayin'.
Dear Sarah Young, your devotional, Jesus Calling, has changed my life. Although it takes .2 seconds to read each day, the message always remains with me throughout the day. Thank you for that.
and last but not least...
Dear Influence Conference (#influenceconf), I so long to be in Indianapolis this weekend with all of the other amazing bloggers that are currently there. Here's to praying that I'll make it to the next one...
Have a fantastic weekend!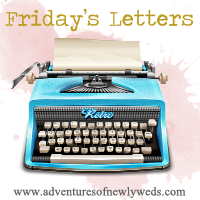 Pin It Now!